Con AIRA Modular Customizer potrete riprogrammare completamente il percorso del segnale all'interno degli effetti modulari AIRA. Compatibile con TORCIDO, BITRAZER, DEMORA e SCOOPER, AIRA Modular Customizer permette di cablare i sub-moduli virtuali per il controllo completo dell'effetto.
Percorso del segnale flessibile e con un mare di possibilità
Potrete personalizzare al Massimo I vostri effetti AIRA Modular grazie ai sub-moduli virtuali. E' anche possibile salvare e richiamare le patch in realtime, oltre a condividerle con tutti gli altri utilizzatori degli effetti AIRA Modular.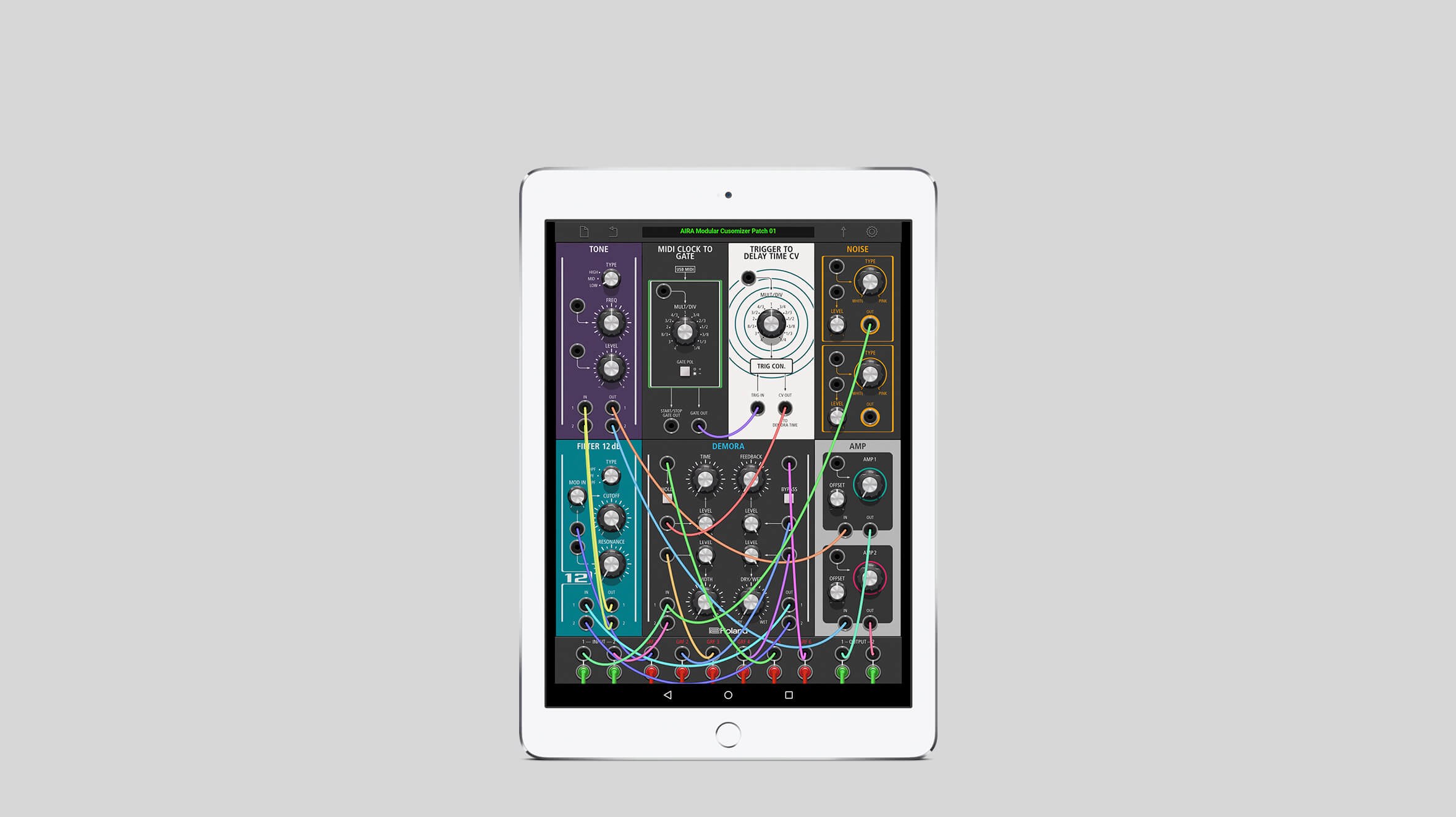 Sub moduli virtuali
Gli effetti AIRA Modular comprendono 31 sub-moduli virtuali e altri in arrivo in futuro.
Includono:
LFO, ADSR, NOISE, SAMPLE & HOLD, RING MOD, FILTER 6 dB, FILTER 12 dB, TONE, AMP, MIXER, STEREO MIXER, CURVE CONV, GATE DIVIDER, TRIG TO CV DELAY TIME, MIDI CLOCK TO GATE, SHORT DELAY, TUBE CLIP, COMPRESSOR, NOISE GATE, 3 BAND EQ, LOGIC OPERATION, CROSS FADER, SWITCHER, ENVELOPER, TRIGGER TO LFO RATE CV, FILTER 18dB, FILTER 24dB, FORMANT FILTER, SAW OSCILLATOR, SQR OSCILLATOR, MIDI NOTE TO CV/GATE
Re-patch via segnale audiol
Colegate il jack cuffia del vostro smartphone o tablet all'ingresso REMOTE IN su uno qualsiasi dei moduli AIRA per personalizzare il percorso del segnale in tempo reale. Assicuratevi che il volume del vostro dispositivo sia al massimo.
Fate attenzione a volume del vostro dispositivo portatile, che deve essere al massimo.
Modelli compatibilii
BITRAZER

DEMORA

TORCIDO

SCOOPER